Fund for Education Abroad Receives $195,000 Endowment from SITA to Fund Scholarships for Study in India
The South India Term Abroad Nallennam Scholarship will fund a summer and semester abroad
Download the full Press Release here.
WASHINGTON, DC, October 18, 2018 – On this ninth day of the southern India Dussehra Festival, an auspicious day called Ayudha Pujai, for the start of new ventures, the South India Term Abroad (SITA) program has bestowed a gift of $195,000 to the Fund for Education Abroad (FEA) to fund a legacy scholarship for study in India.  Named The South India Term Abroad (SITA) Nallennam Scholarship, derived from the Tamil word, nallennam, for benevolence and goodwill, the gift will create two endowed scholarships: $5,000 for a full semester program and $2,500 for a summer term. The gift is part of FEA's "Bringing the World Home" capital campaign, launched in 2017.
"FEA will continue the legacy of SITA," said Adrian Beaulieu, SITA Advisory Board Chair and Dean of International Studies (Ret.) at Providence College. "Traveling abroad shouldn't be restricted to well-off students or require them to take on debt. When we send our best and brightest abroad, the cultural exchange that happens has immense and far-reaching outcomes. "
Preference will be given to those students who wish to study abroad in southern India. Additionally, preference will be for the former SITA consortial member institutions (Bates, Bowdoin, George Washington, Grinnell, Oberlin, Sarah Lawrence, Smith, and Whittier), but otherwise, the scholarships are open to all who wish to apply.
From its inception in 1990 until its final scholarship offered this year, SITA offered students diverse and creative opportunities to take classes, conduct field research, live with host families, and travel throughout South India. SITA alumni have pursued further research opportunities with prestigious fellowships, became scholars in South Asian related fields, applied their experience in professions from public health to law, and with every south Indian meal or story shared with friends and family.
"Studying abroad is more important – and more popular – than ever," said Martha Johnson, FEA Board Chair and Assistant Dean, Learning Abroad, University of Minnesota. "Gifts like the one from SITA ensure that students will have access to high-quality India programs well into the future."
"An endowment of this size has great impact," said FEA Executive Director Jennifer Calvert. "Finances are stated as the number one barrier to studying abroad by students. We know that an education abroad experience is often life- changing, motivating students to complete their collegiate program, volunteer abroad, and even pursue international careers. SITA's gift will make it possible to send more students abroad in perpetuity."
FEA Scholars come from a variety of racial, ethnic and socioeconomic backgrounds and represent higher education institutions across the country. Students study across the globe, from a minimum of four weeks to a full academic year. FEA funds scholarships of up to $10,000 for study abroad.
#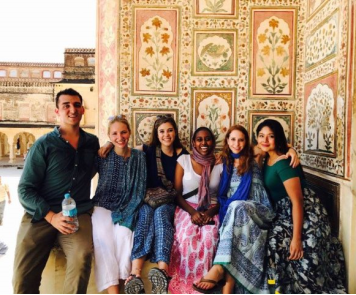 Caption: FEA Scholar Selaem Hadera (center) and her classmates in New Delhi.
About the Fund for Education Abroad
The Fund for Education Abroad (FEA) is a 501(c)(3) whose mission is to provide scholarships and ongoing support to students who are underrepresented among the US study abroad population. FEA makes life-changing, international education experiences accessible to all by supporting minority, community college and first-generation college students before, during, and after they participate in education abroad programs.  FEA is a Guidestar Gold participant, and  won the 2015 Diversity Abroad Excellence in Diversifying International Education Award and GoAbroad.com's 2015 Innovation in Philanthropy Award.  Follow FEA at www.fundforeducationabroad.org, and on Facebook, LinkedIn, Tumblr and on Twitter: @FEAScholarships.